Interaction is moving off the screen and into the environment around us.
Cut the steps between thinking and doing

— steven ____ ?
We tend to think about our interfaces as a keyboard or other physical device.
This talk is how can we begin to cross this barrier
Magic at #uxlx with @bigmediumjosh #uxlx #IoT pic.twitter.com/BjY58WnHln

— Jumana Al Issawi (@jumalis_) June 4, 2015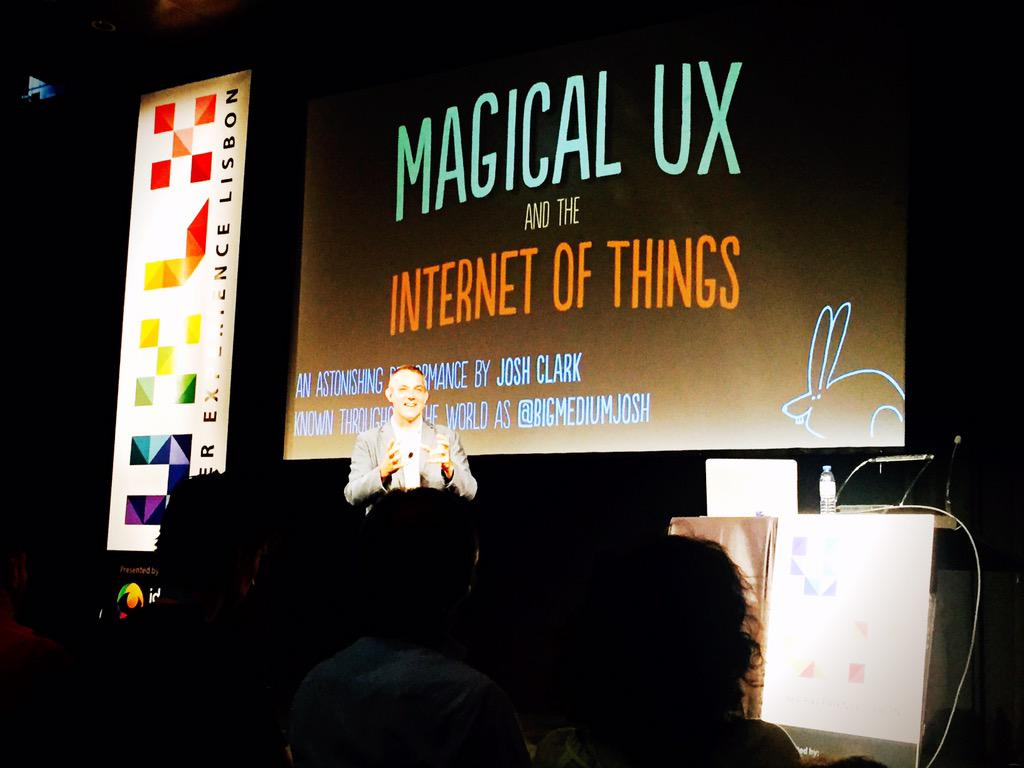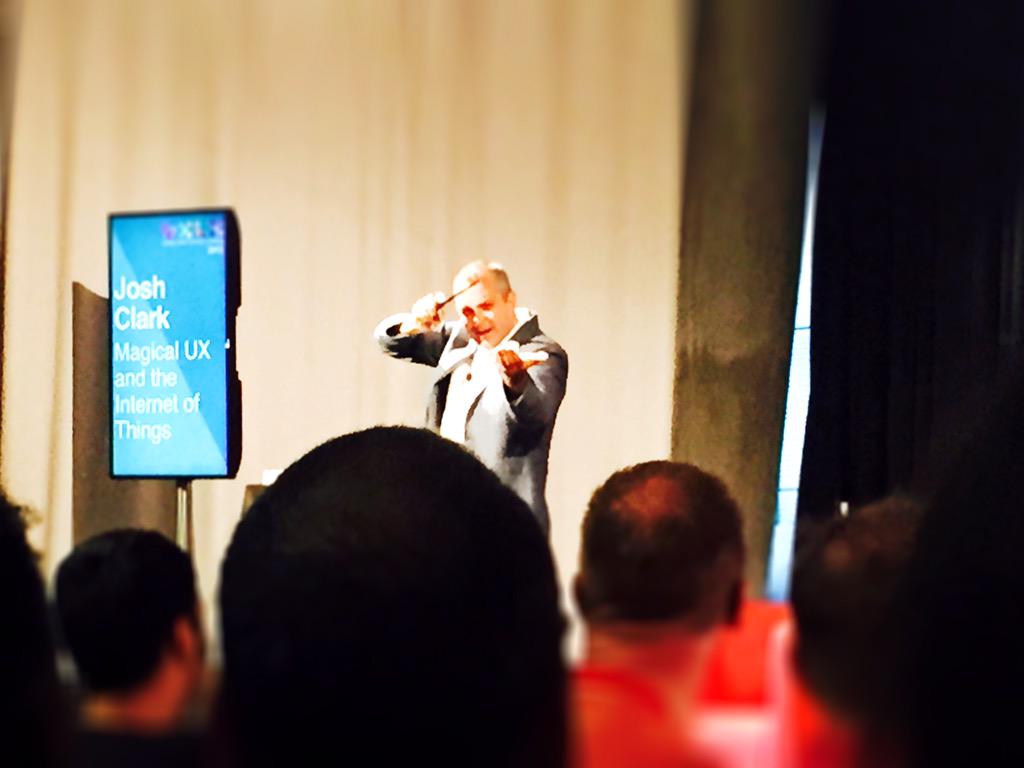 Making magic appear by making technology disappear "Magic UX and the Internet of things" @bigmediumjosh #uxlx pic.twitter.com/HiyXptMU79

— María P. Arrilucea (@nunile) June 4, 2015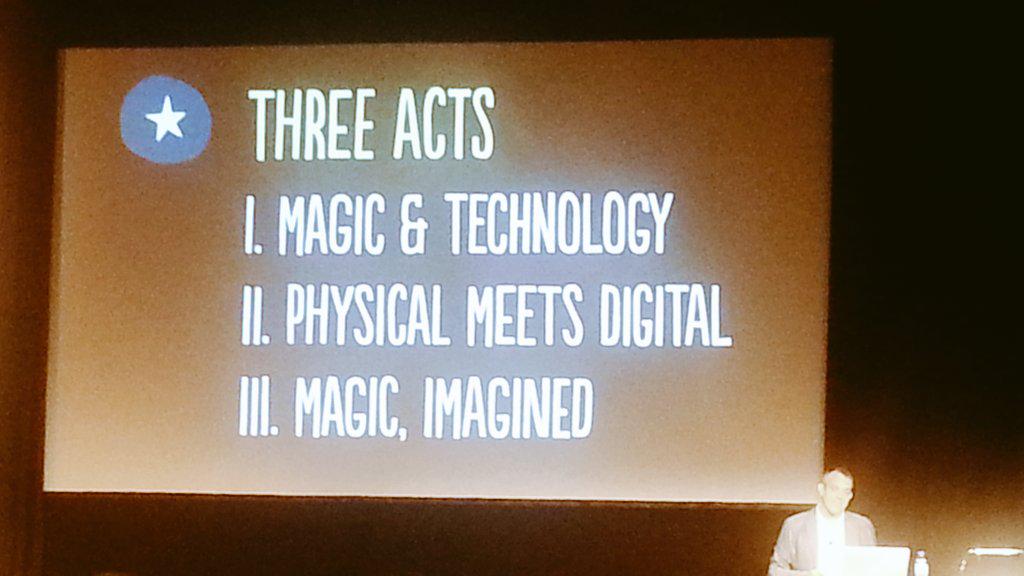 1. magic and tech
Any sufficiently advanced technology is indistinguishable from magic

— Arthur C. Clark
one goal: the computer disappears into the environment.
The phone is the first magic wand for everyone.
The phone is the first internet of things device for everyone.
Sensors * smarts + connectivity
The phone is also always available at the point of inspiration. When you need information, or services.
Mobile phones bring computing power to immobile objects.
If we can make a diaper into a web connected device, imagine what we can do.
Each one spends 3h and 16min on his phone every day @bigmediumjosh #uxlx #InternetOfThings

— Sophie Muto (@Sofymaxi) June 4, 2015
"phones wedge themselves between us and our surroundings" – the more connected we are the more disconnected we become #uxlx @bigmediumjosh

— UX Podcast (@uxpodcast) June 4, 2015
Related reference, FOMO : Fear of missing out
To read: Enchanted Objects BY David Rose 😉 #UXLX

— aldasilva (@aDreamersWaltz) June 4, 2015
Persistent mirror of clothes store
Dorothy project
Bt.tn
Flip
IFTTT
Zappier
Amazon's dash buttons
The decision hat from Harry Potter is Google Now in hat form. @bigmediumjosh at #uxlx

— Jacob Svarre (@svarre) June 4, 2015
Summary :
2. physical meets digital
Physical interaction with a digital API
The web breaks down barriers.
The world is becoming the interface
(You know, like it always has been)
The world is a data source
snapshot by progressive insurance.
https://www.progressive.com/auto/snapshot/
Automatic
delivering actionable advice and insight. Improve safety, give you feedback, checks the engine etc.
Passive interface
Ares sand table
https://www.military.com/video/logistics-and-supplies/army-equipment/sandtable-as-fun-as-sanbox/3849414398001/
The world is reactive
The world is a big canvas (we can design for a room or even a city)
wearables vs bearables
project called room E
the world has depth and mass
Thaw — replace the mouse with your phone.
summary:
gather data for insight
channel our intention sometimes at a distance. making it simple to move from idea to action
use the world as a canvas
interactions have mass
3. magic imagined
hardware is not the barrier, we can use regular stuff.
software and behavior is the hard part
This is not a challenge of technology but a challenge of imagination
design for the thing's essential thingness

— josh clark
Different mental models lead to frustration
— Abby Covert
Don't just add data. Add insight
Expose as little technology as possible
Mailchimp + https://brendandawes.com/
Be a little bit ridiculous
There is wisdom in play and immaturity. Gets us thinking into new ways of interacting with the world.
— josh clark
Magic always goes wrong
We should always have access to the off switch!
When algorithms fails, is the point to add human judgment.
Tech should aplify our humanty.

— Josh Clark
---